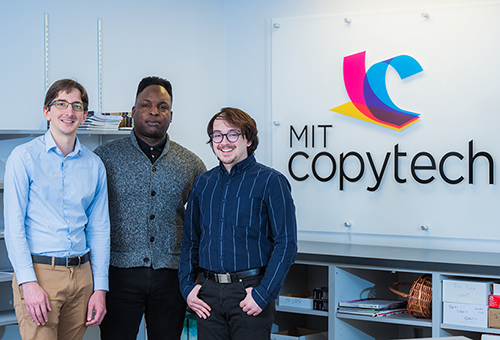 MIT Copytech's Distributed Printer Programs provide support for Multi-Function Devices at MIT, with the goal of taking the responsibilities of device management off of office administrators and providing financial support to spread out large equipment purchases, as well as supporting on-campus research and studies.
MIT Copytech's Multi-Function Device programs were created to support Departments, Labs and Centers (DLC's) on campus that might require assistance in the financing, acquisition, installation, and general management of office equipment that prints, scans and copies. Through our programs DLC's can lease-to-own a Multi-Function Device that MIT Copytech has purchased to spread out costs, take advantage of a range of equipment support services, or utilize the managed Student Printers which provide students on campus and in the Residence Halls with printing and scanning services to aid in their academic endeavors.
In collaboration with the Office of Procurement, MIT Copytech monitors vendor performance in terms of pricing and services provided for Multi-Function Devices at MIT. Preferred Vendors are selected every several years based on their performance and MIT's needs and requirements. MIT's Preferred Vendors provide excellent value and are held to stringent guidelines to best serve the MIT community.
For specifics on managed equipment services please reference the links to the left. The Lease With Services program is our most popular departmental option. If you're interested in our managed equipment services, have an issue on a managed device or just have a general question, please select the "Contact" option for relevant contact information. We look forward to hearing from you.