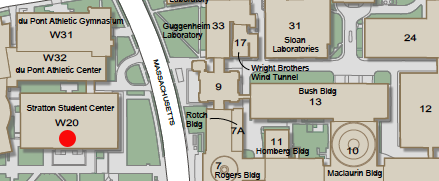 Building W20-102
Stratton Student Center
84 Massachusetts Avenue
Cambridge, MA 02139
Phone: 617-253-2806
Fax: 617-258-0974
HOURS: 
We are accepting print requests, but our locations are closed to foot traffic due to COVID-19.


High quality posters (larger than 13"x19")
Our large-format print center is ready to server your large format needs. Our HP 360 Latex printer can print up to 60" wide and on a number of creative media. Large-format prints are perfect for event advertising, class poster sessions, and conference presentation materials. Choose our house stock, a semi gloss, satin finish quality white stockpaper ready for mounting or laminating. A variety of floor, wall and window graphic media are also available for creative usage and wayfaring.
Banner Printing
We will print your banner and install it on one of our retractable banner stands, 24" and 36" units available. Just want to hang the banner, we can install grommets to allow it to hang appropriately. Not sure what stock to use or what size to create, visit our Resource Room in 11-004 where we will help you to choose the appropriate materials for your project.
This location offers the following services.

Large-format poster printing with trim, mount, laminate and framing options
Banner printing and retractable banner stands available (24" and 36" units)
Thesis printing service using Institute-required materials
Fax service/self-service
Free delivery on campus
Please visit our main campus location or call 617.253.2806 to inquire about additional services available at that location.